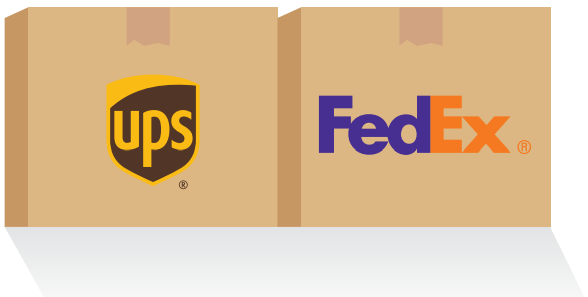 Shipping to Us
Ship your flowers Overnight or 1-day shipping.
To keep your special occasion flowers fresh we ask that you ship your botanicals to us using an overnight or 1-day shipping service. The freshest flowers equals the most beautiful preservation.
You may check out your cost by using UPS, FedEx or other shipping companies website shipping calculators. Canada Post does not provide 1 day shipping.
Complete instructions for easily and safely packing and shipping your bouquet is provided once your date and deposit have been confirmed. Important note: Resin Bouquet is not responsible for any damaged, lost or delayed shipments.
Canada Customs will not allow shipments of fresh botanicals from the US without proper import procedures.
Shipping to You
All orders require 9 – 12+ weeks of processing time and you will be notified by email with exact shipping date.
We use Canada Post to ship our completed Resin Bouquet back to you. We calculate the shipping cost and add it to your invoice for your final payment. A tracking number will be emailed to you.
Canada
The estimated delivery time for Canada Post Regular is 3 – 10 business days for Canadian orders after your order leaves our business and is dependent on your region. Please see Canada Post's delivery time map below for Canada. Our experience is that Canada Post is often faster than the times shown, however; it can take longer during peak times.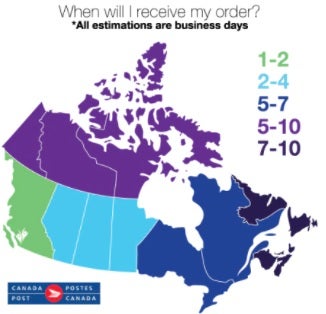 Canada Post Shipping times may vary during high-volume periods such as the holidays.
An expected delivery is an estimate based on where it is in the Canada Post network. The date and time are not guaranteed and can be impacted by factors such as weather, traffic, and parcel volume.
United States
The estimated delivery time for Canada Post Expedited Parcel to the United States is 4 – 10 business days after your order leaves our business.
Order Tracking
Once an order has been shipped, you will receive an email with a tracking number that has been provided by Canada Post.
If the tracking information states that your package has been delivered, but you cannot locate it, please check for the following:
Is a note left on my door stating to pick it up at the post office?
Does a neighbor or building manager have the package?
Is the package hidden near my porch, garage, or shrubs around my home?
Sometimes, couriers will leave packages in areas they determine to be safe, if no one answers the door. Unfortunately, this is a Canada Post policy and Resin Bouquet is not liable for lost orders, packages that are delivered incorrectly, or shipments that are deemed undeliverable.