RESIN BOUQUET
WEDDING FLOWER
BOUQUET PRESERVATION
Modern & Elegant Special
Occasion Floral Keepsakes
Preserve Your Cherished Memories
We design and create modern & unique preserved floral resin keepsakes from your wedding and special occasion bouquets. Each botanical art piece is custom handcrafted to reflect all the beautiful details of your bridal flowers. Your preserved bouquet is a timeless and elegant heirloom of your wedding day for you to enjoy for a lifetime.
Brides, save your bouquet! Don't let your wedding flowers wilt and die! Your floral arrangements are one of the most beautiful and carefully chosen investments from your wedding day. Your bouquet will be carefully dried and then creatively arranged and preserved in glass-like resin so you can display it in your home and enjoy it as a tangible memory of your special day that you will cherish for years to come.
Other Custom Flower Preservations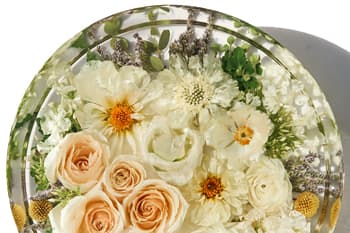 Special Occasions
Resin preservation is not just for weddings. Any flowers that hold special memories would be meaningful to preserve ~ Anniversary, Birthday, Mother's Day, Memorial or even flowers from the significant places, people or events in your life. Preserving your favorite flowers would be a unique art piece to accent your home decor.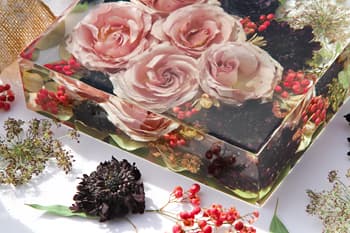 Wedding Already Past?
Did you miss preserving your wedding bouquet? I would love to create a unique floral keepsake for you. A few of each of the fresh blooms that were in your bouquet from your florist is all I need. If you are not in the Vancouver area, you may order from one of our local florists. Also, If your bouquet is already dry and you would like to preserve it, please contact me!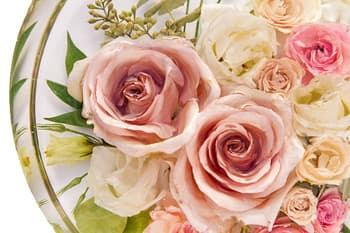 A Thoughtful Gift
A Resin Bouquet is a very special wedding gift for the bride herself! Coasters and tea lights are wonderful gifts for the moms or bridesmaids. As well, any friend or family member that loves flowers or gardening would appreciate their favorite botanicals preserved in resin as a beautiful keepsake or decor art piece.
Our Products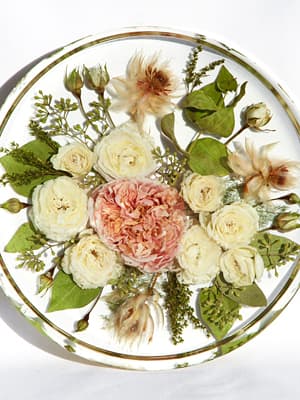 9 in Round $375
(tax included)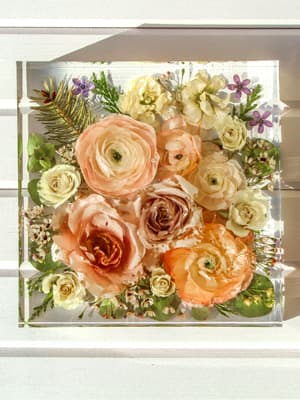 8 in Square $375
(tax included)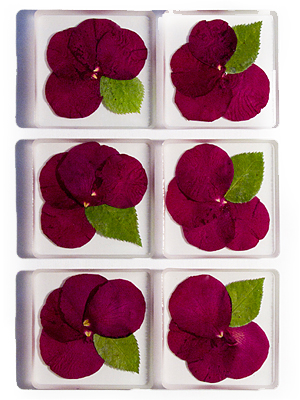 6 Coasters $170
For pressed petals and leaves
(tax included)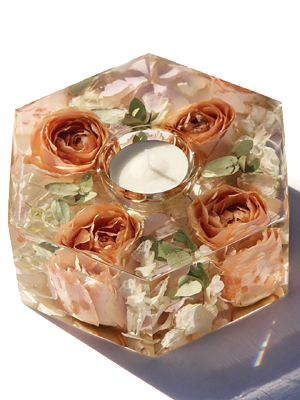 5 in Tealight $170
For small flowers and leaves
(tax included)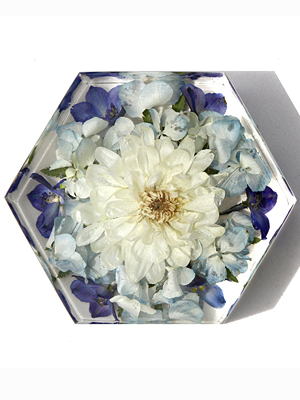 5 in Keepsake $170
For small flowers and leaves
(tax included)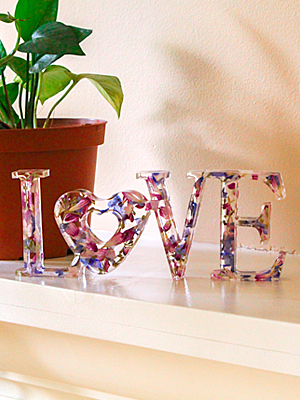 LOVE Sign $45
Only available as an add-on
(tax included)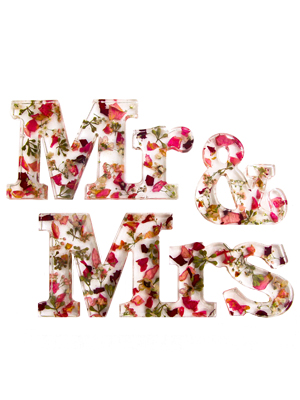 Mr & Mrs $70
Only available as an add-on
(tax included)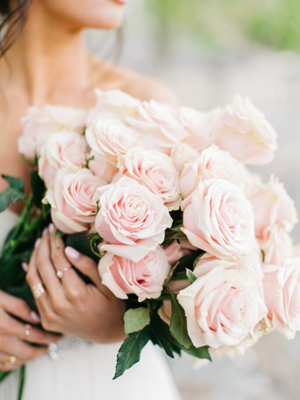 Preservation for US Brides
There are two options for your bouquet preservation
2. Ship your original bouquet that has first been dried in silica or air-dried.
1. If your wedding has already past or your bouquet is no longer in good condition you may order the same flowers that were in your bouquet from your florist, dry them in silica and then ship them to me for a remake preservation.
Save Your Date!
Because of the labour and time intensive nature of making handcrafted art, only a limited number of flower preservations can be accepted each week. Please leave a message in the contact section to check availability.
Serving Vancouver, Canada ~ The Lower Mainland of North / West Vancouver, Burnaby, New Westminster, Richmond, Delta, Coquitlam, Maple Ridge, Surrey, Langley, Abbotsford, Mission, Chilliwack and all of the Fraser Valley.


Also, preserving flowers from the rest of British Columbia and Canada-wide. Please contact me if you would like more information about shipping your bouquet.
Complete instructions for easily and safely packing and shipping your bouquet is provided once your date and deposit have been confirmed. Important note: Resin Bouquet is not responsible for any damaged, lost or delayed shipments.
Newest Posts