RESIN BOUQUET
WEDDING FLOWER
PRESERVATION
Modern & Elegant Special
Occasion Floral Keepsakes
Preserve Your Flowers into a Timeless Keepsake
Welcome! I am so happy you are here! Resin Bouquet is a flower preservation design studio. I design and create modern and elegant, one-of-a-kind resin art keepsakes showcasing your wedding and special occasion flowers. Each botanical keepsake is completely unique and custom handcrafted to reflect all the beautiful details of your bouquet. Turn your flowers into a beautiful heirloom piece of art that you can proudly display in your home as a lasting memory of your special day. If you loved your wedding florals, you can now enjoy them for a lifetime!!
Once I receive your bouquet, I will carefully select the freshest & most beautiful flowers and greenery to dry & preserve. After the florals are completely dry, a creative design will be made in the mold of your choice and then the process of pouring the resin begins.
Your special day will come and go, but your flowers can last forever! I am excited to work together with you to create a beautiful piece of art that celebrates and honors your special occasion.

Please send a contact to check availability.
Other Custom Flower Preservations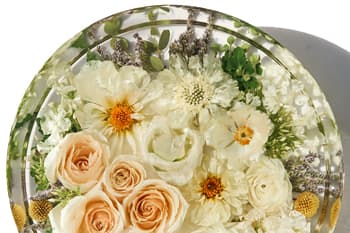 Special Occasions
Resin preservation is not just for weddings. Any flowers that hold special memories would be meaningful to preserve ~ Anniversary, Birthday, Mother's Day, Engagement, Memorial or flowers from the significant people or events in your life for a truly memorable and personal art piece.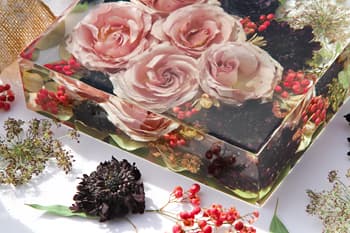 Wedding Already Past?
Did you miss preserving your wedding bouquet? A few of the flowers that were in your bouquet from your florist is all I need. If you are not in the Vancouver area, you may order from one of our local florists. If your bouquet is already dry and you would like to preserve it, please contact me!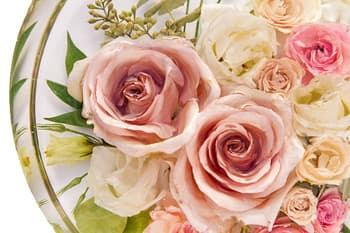 A Thoughtful Gift
A Resin Bouquet is a very special wedding gift for the Bride! Coasters, Tealights or Keepsakes are wonderful gifts for Mom. As well, any friend or family member that loves flowers or gardening would appreciate their favorite botanicals preserved in resin as a beautiful keepsake or decor art piece.
Our Products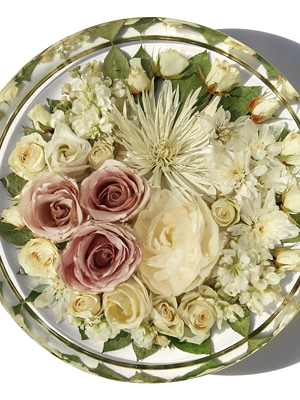 9 in Round $400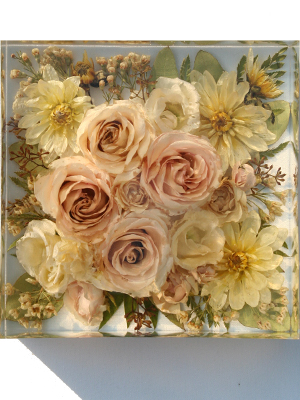 8 in Square $400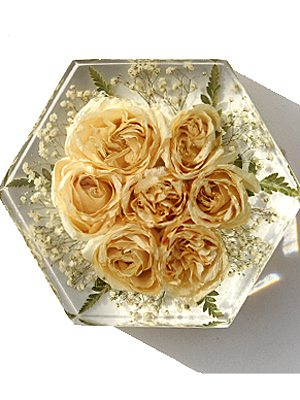 7 in Hexagon $325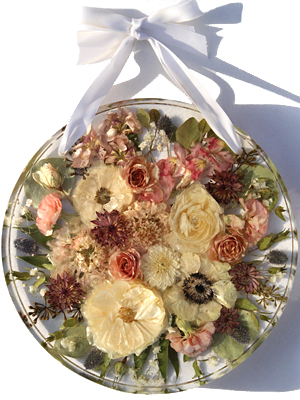 9 x 1 in Wall Art $325
Pressed flowers & ribbon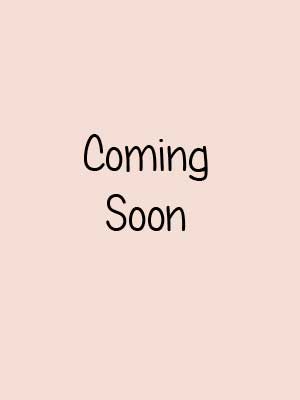 11 x 14 in Canvas Art $400
3D/Pressed flowers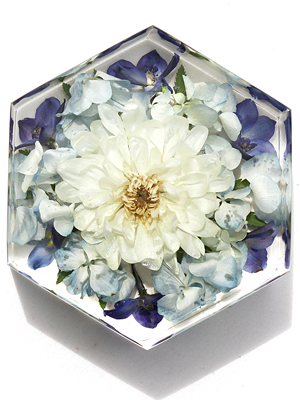 5 in Keepsake $200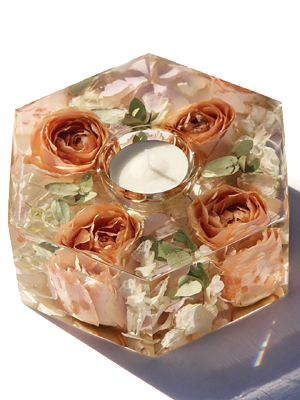 5 in Tealight $200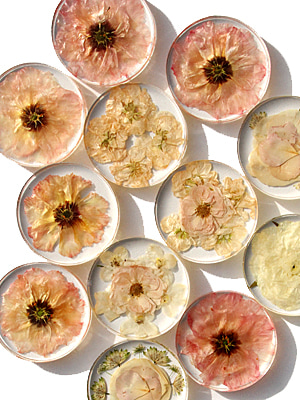 4 in Round 6 Coasters $210
Pressed petals & leaves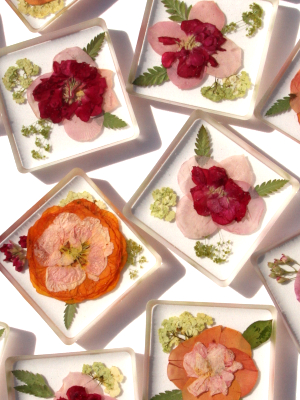 3 in Square 6 Coasters $175
Pressed petals & leaves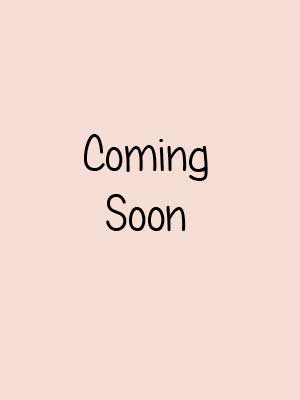 4 in Rose Keepsake $80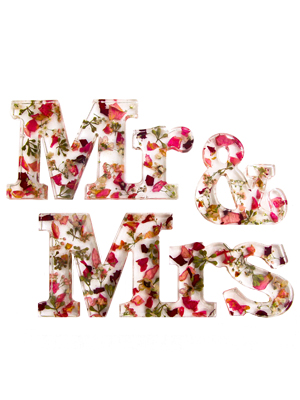 Mr & Mrs $60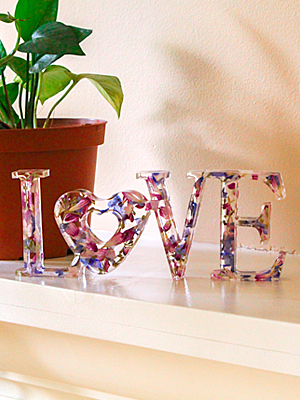 LOVE Sign $45
add-on only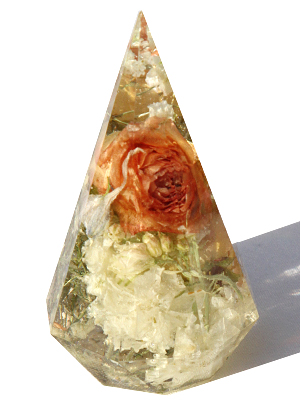 Ring Holder $60
4 1/2 in x 2 1/2 in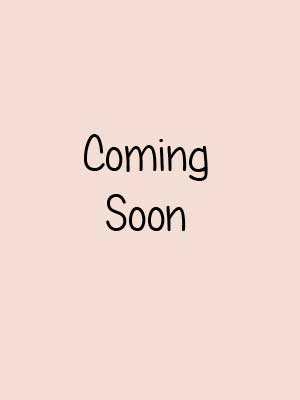 Trinket Dish $60
7 1/2 in x 4 in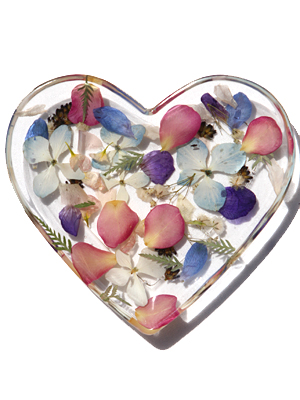 Heart Jewellery Dish $40
4 3/4 in x 4 1/2 in
add-on only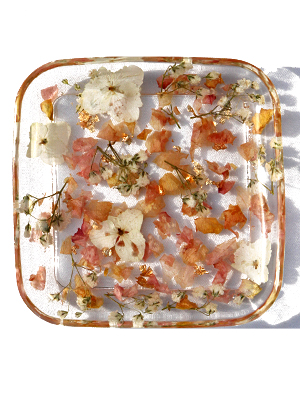 Square Jewellery Dish $40
4 1/2 in x 4 1/2 in
add-on only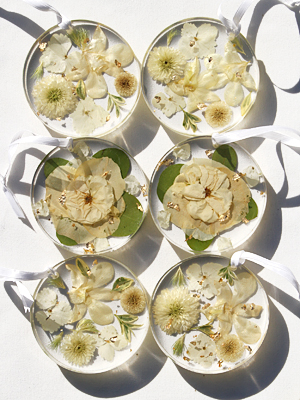 4 in Ornament $35
pressed flowers, gold flakes/ribbon
add-on only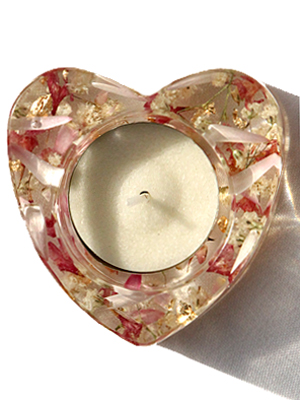 Small Heart Tealight $20
pressed flowers, gold flakes
add-on only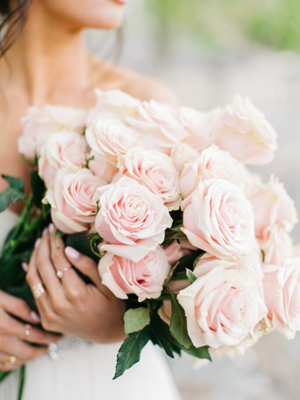 Preservation for US Brides
Two options to choose from:
1. Ship your original bouquet that has FIRST been air/silica dried.
2. Order your flowers from a florist near us for a re-creation.
Save Your Date!
Because of the labor and time intensive nature of making handcrafted art, only a limited number of flower preservations can be accepted each week. It is best to book ahead. Please leave a message in the contact section to check availability.
Serving Vancouver, BC, Canada ~ North/West Vancouver, Burnaby, New Westminster, Richmond, Delta, Coquitlam, Maple Ridge, Surrey, Langley, Abbotsford, Mission, Chilliwack and all of the Fraser Valley.
All of British Columbia and Canada-Wide.
Bouquets from the US that have FIRST been air/silica dried. Please contact us for more information if you are sending your flowers from the United States.
Complete instructions for easily and safely packing and shipping your bouquet is provided once your date and deposit has been confirmed. Important note: Resin Bouquet is not responsible for any damaged, lost or delayed shipments.
Newest Posts