RESIN BOUQUET
WEDDING FLOWER
BOUQUET PRESERVATION
Modern & Elegant Special
Occasion Floral Preservation
Preserve Your Cherished Memories
We design and create modern & unique preserved floral resin keepsakes from your wedding and special occasion bouquets. Each botanical art piece is custom handcrafted to reflect all the beautiful details of your bridal flowers. Your preserved bouquet is a timeless and elegant heirloom of your wedding day for you to enjoy for a lifetime.
Brides, save your bouquet! Don't let your wedding flowers wilt and die! Your floral arrangements are one of the most beautiful and carefully chosen investments from your wedding day. Your bouquet will be carefully dried and then creatively arranged and preserved in glass-like resin so you can display it in your home and enjoy it as a tangible memory of your special day that you will cherish for years to come.
Other Custom Flower Preservations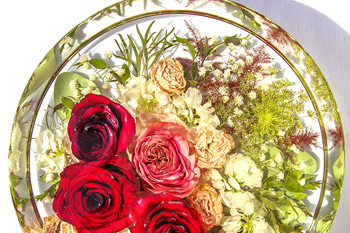 Special Occasions
Resin preservation is not just for weddings. Any flowers that hold special memories would be meaningful to preserve ~ Anniversary, Birthday, Mother's Day, Memorial or even flowers from the significant places, people or events in your life. Preserving your favorite flowers would be a unique art piece to accent your home decor.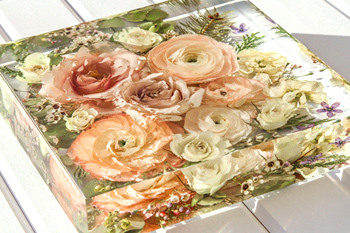 Wedding Already Past?
If you would have liked to preserve your wedding flowers, I can create a remake of your bouquet. A few of each of the fresh blooms from your florist is all I need. If you are not in the Vancouver area, you can order from one of our local florists. Also, If your bouquet is already dry and you would like to preserve it, please get in touch.
A Thoughtful Gift
A Resin Bouquet is a very special wedding gift for the bride herself! Coasters and tea lights are wonderful gifts for the moms or bridesmaids. As well, any friend or family member that loves flowers or gardening would appreciate their favorite botanicals preserved in resin as a beautiful keepsake or decor art piece.
How Your Wedding Bouquet is Preserved
The Freshest Blooms are Best
The best results for preserving the most authentic colors, shapes and textures of your flowers is to dry the freshest blooms possible. It is very important that the bouquet is kept cool, hydrated in water and delivered as soon as possible after the wedding or special occasion. Friends or family members can also deliver, ship or courier the bouquet if you are not available. To aid the flowers to take up more water it is also very helpful to recut the stems. Please note that wilted, bruised, discolored or crushed petals cannot be reversed in the preservation process. Replacement flowers can be purchased from your florist if some of the blooms are too damaged to preserve.
Once the bouquet is received, the best blooms and greens are carefully and individually dried for approximately 2-3 weeks. During the drying and resin process certain colors can change. Red, pink and purple can darken and white tends to yellow or become cream colored. Some flowers may appear to have translucent spots in the resin depending on how bruised they were when they were dried. This seems to be most apparent in roses. Once all the botanicals are dry, a creative design is made in the mold.
The next step is pouring the resin. Over a number of days, many fine layers are carefully poured over the very delicate floral ingredients. Each layer of resin must set before the next layer is poured. The resin is generally poured to approximately 2 inches in depth. Any blooms that are deeper than 2 inches will be covered in resin to protect the blooms, but they will not be submerged under the resin. This produces a lovely three dimensional effect!

Lastly, once the pouring is complete, your Resin Bouquet will dry for approx 7 days to ensure that it is completely hardened and cured. The entire preservation process takes about 8 weeks in total. All resin art is non-toxic, and produces no VOCs or fumes.
Important Notes:
I take the utmost care in creating your beautiful preservation, but because Resin Bouquet is original, handmade art with resin and very delicate and fragile botanical ingredients some small bubbles, flaws and imperfections are sometimes unavoidable.
All epoxy resin will eventually amber or yellow over time. To delay the process please keep your preserved Resin Bouquet away from heat or direct sunlight as you would with any piece of art or original painting.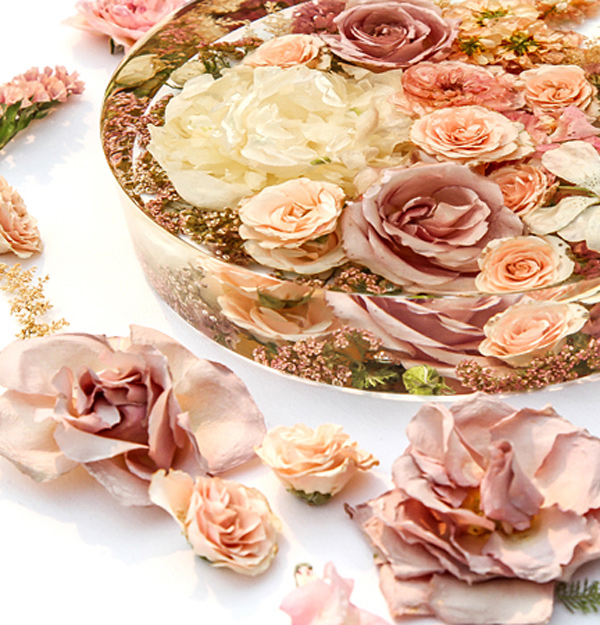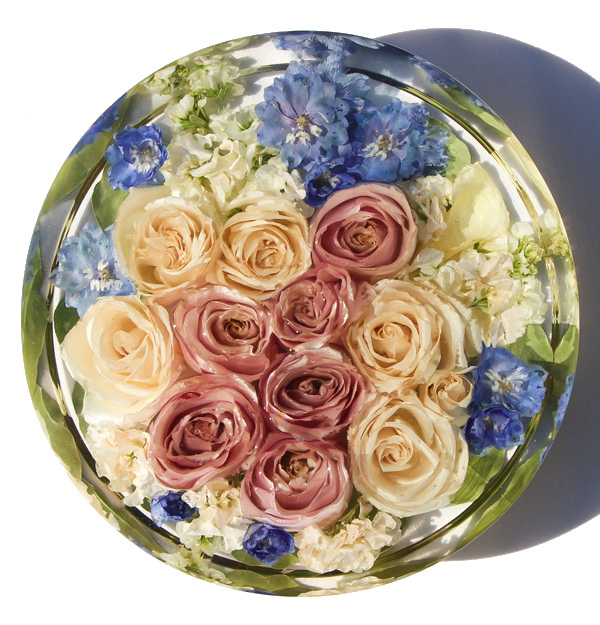 Our Products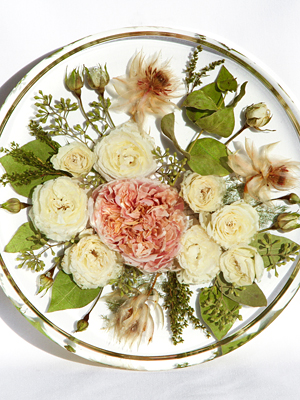 9 inch Round $350
(tax included)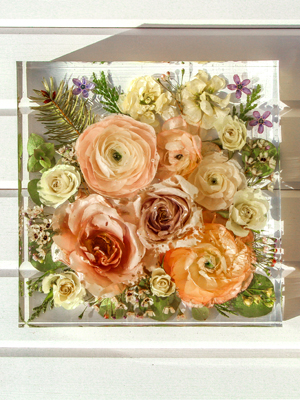 8 inch Square $350
(tax included)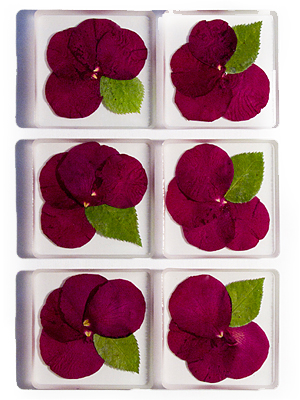 6 Coasters $125
(tax included) Suitable for glassware. Ceramic bottoms may scratch the coaster surface.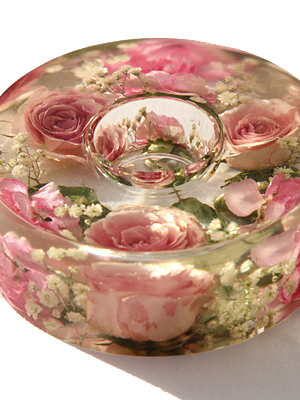 4 3/4 inch Tealight $125
(tax included) Suitable for small spray roses and other small flowers and greens.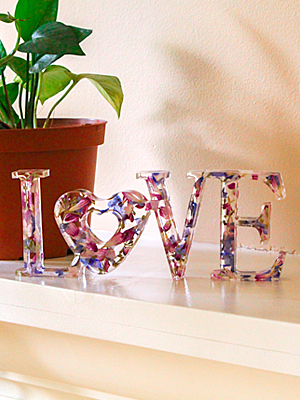 LOVE Sign $40
(tax included) 8″ length, 3 1/8″ high, 5/8″ deep. Only available as an add on.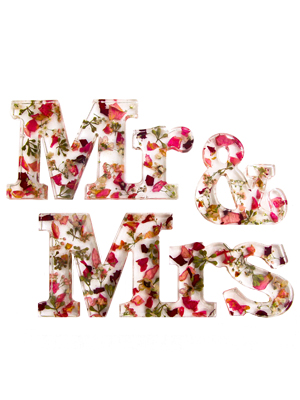 Mr & Mrs $40
(tax included) Only available as an add on.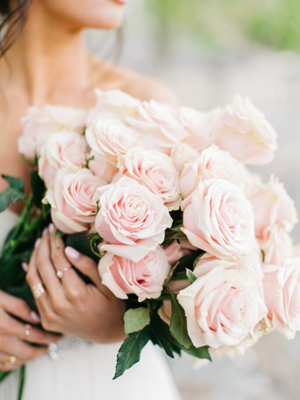 Remakes for US Brides
Order the same flowers you carried down the aisle from a florist near us in Canada. We will make a Resin Bouquet to keep your memories alive.
Save Your Date!
Because of the labour and time intensive nature of making handcrafted art, only a limited number of flower preservations can be accepted each week. Please leave a message in the contact section to check availability.
Serving our local areas of Vancouver, Canada ~ North / West Vancouver, Burnaby, New Westminster, Richmond, Delta, Coquitlam, Maple Ridge, Surrey, Langley, Abbotsford, the Fraser Valley and all of British Columbia.
Overnight or 1-day shipping of bouquets from all across Canada are also accepted. Complete instructions for easily and safely packing and shipping your bouquet is provided once your date and deposit have been confirmed. Important note: Resin Bouquet is not responsible for any damaged, lost or delayed shipments.
Newest Posts