Pressed Flower Wall Art
The Pressed Flower Wall Art is the perfect preservation option for those Brides that prefer to hang their Resin Bouquet on the wall rather than placing the Resin Art on a horizontal surface. This is a lovely and unique way to display your preserved flowers, much like a beautiful floral painting! Because it hangs on the wall it must be fairly light, thus the reason for a thinner resin and smaller and pressed flowers. To finish off your preservation, your Pressed Flower Wall Art will be hung by your choice of ribbon tied in either a knot or a bow.
Most flowers are suitable for the Pressed Flower Wall Art. Roses, Delphiniums, Stock, Anemones, Lisianthus, Ranunculus, Queen Anne's Lace, Hydrangeas, Astrantia, Wax Flowers, Scabiosa, Statice, Orchids, Larkspur, Sweet Peas, mini Carnations, Chocolate Cosmos, Zinnias and all greens. Some flowers that are already quite flat may not need to be pressed further. Only very fleshy or thick botanicals that are difficult to press would not be suitable. Dahlias, Chrysanthemums, Lilies and Asters fall into this category.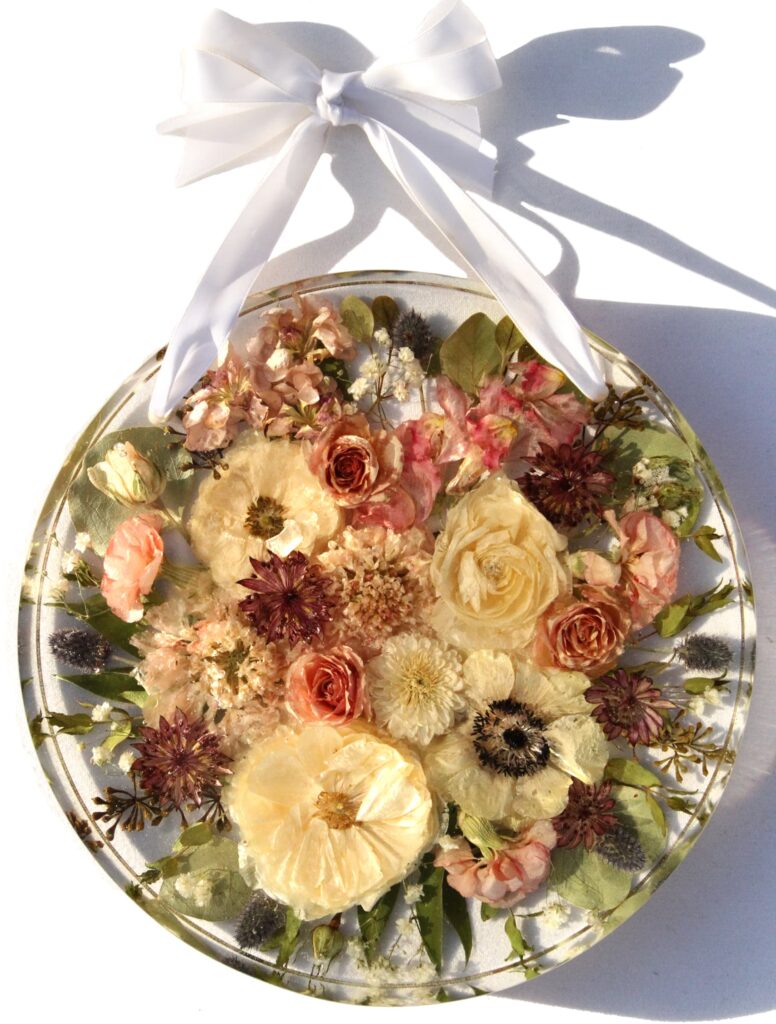 Size: 9 inch wide, 1 inch deep