Wedding Bouquet Preservation
How Your Wedding Bouquet is Preserved
The Freshest Blooms are Best
The best results for preserving the most authentic colors, shapes and textures of your flowers is to dry the freshest blooms possible. It is very important that the bouquet is kept cool, hydrated in water and delivered as soon as possible after the wedding or special occasion. Friends or family members can also deliver, ship or courier the bouquet if you are not available. To aid the flowers to take up more water it is also very helpful to recut the stems. Please note that wilted, bruised, discolored or crushed petals cannot be reversed in the preservation process. Replacement flowers can be purchased from your florist if some of the blooms are too damaged to preserve.
Once the bouquet is received, the best blooms and greens are carefully and individually dried for approximately 3+ weeks. During the drying and resin process certain colors may change. Red, pink and purple colors can darken and white tends to yellow or become cream colored. Some flowers may appear to have translucent spots in the resin depending on how bruised they were when they were dried. This seems to be most apparent in roses, lilies and orchids. Once all the botanicals are dry, a creative design is made in the mold and emailed for approval.
The next step is pouring the resin. Over a number of days, many fine layers are carefully poured over the very delicate floral ingredients. Each layer of resin must set before the next layer is poured. The resin is generally poured to approximately 2 inches in depth to cover your flowers.

Lastly, once the pouring is complete, your Resin Bouquet will dry for approx. 7 days to ensure that it is completely hardened and cured, after which it will be sanded, polished and photographed. The entire preservation process can take 9 – 12+ weeks depending on how many other orders I have and also how many items are in your order. Your patience is very much appreciated! All resin art is non-toxic, and produces no VOCs or fumes.
Important Notes:
I take the utmost care in creating your beautiful preservation, but because Resin Bouquet is original, handmade resin art using very fragile botanical ingredients some small bubbles, flaws, imperfections and transparent spots are sometimes unavoidable.
All epoxy resin will eventually amber over time. To delay the process, please keep your preserved Resin Bouquet away from heat or direct sunlight, as you would with any piece of art or original painting.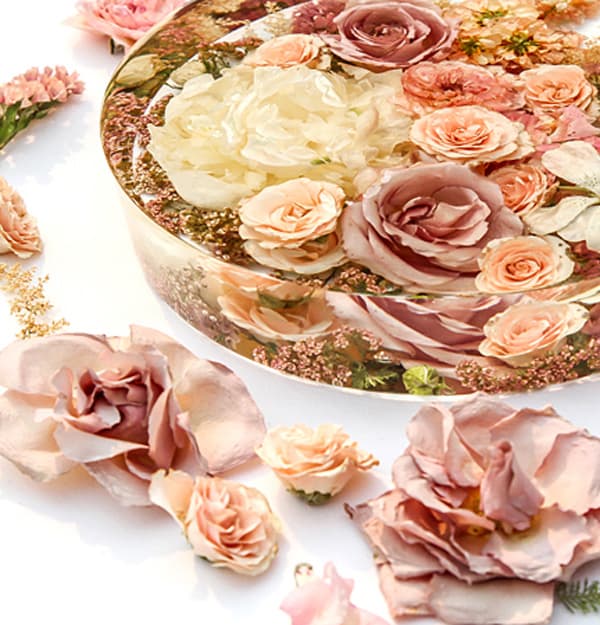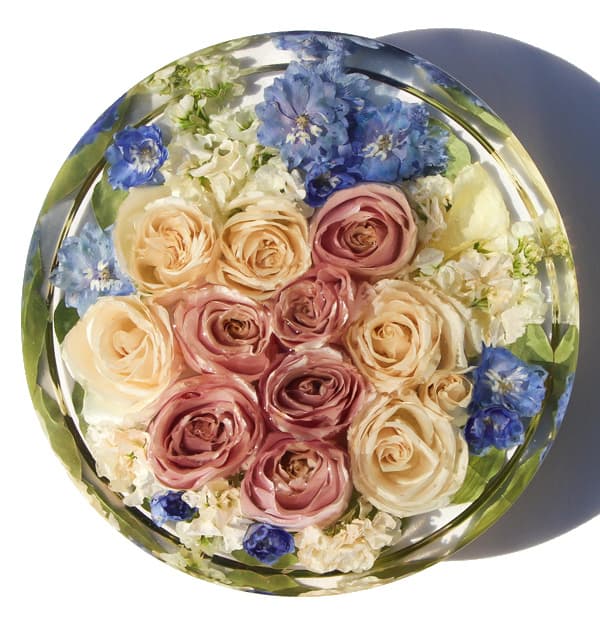 Our Products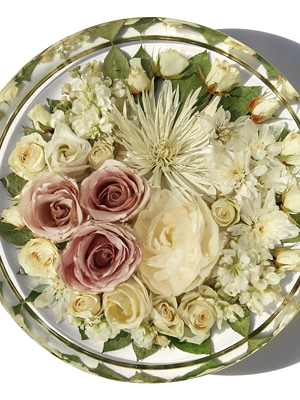 9 in Round $375
(tax included)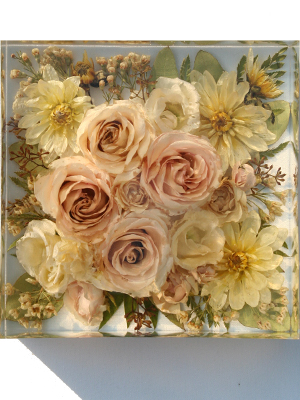 8 in Square $375
(tax included)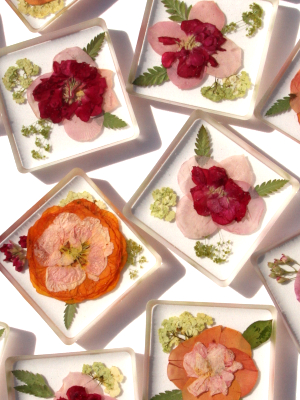 6 Coasters $170
pressed petals and leaves
(tax included)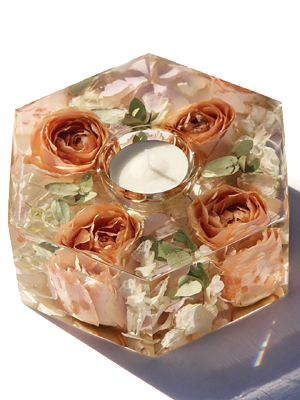 5 in Tealight $170
small flowers and leaves
(tax included)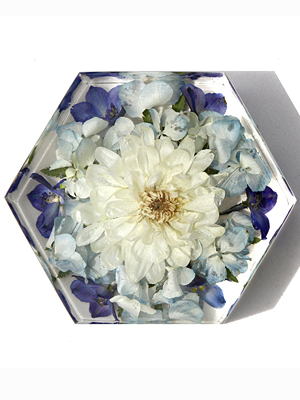 5 in Keepsake $170
small flowers and leaves
(tax included)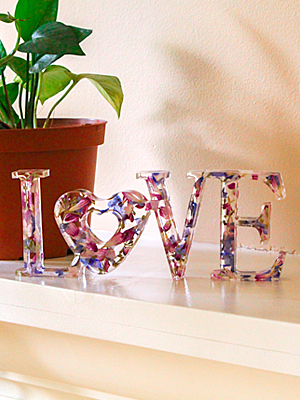 LOVE Sign $45
add-on only
(tax included)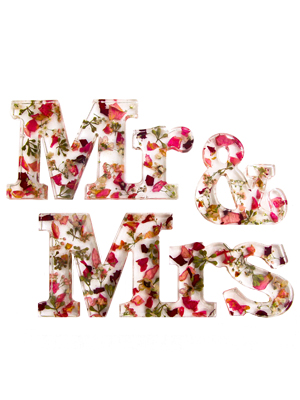 Mr & Mrs $60
add-on only
(tax included)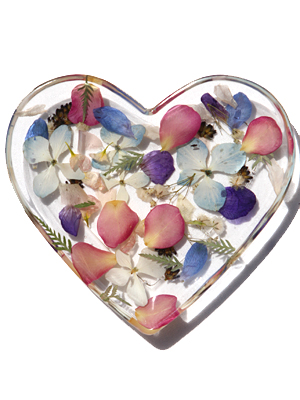 Heart Jewellery Dish $45
add-on only
4 3/4 in x 4 1/2 in
(tax included)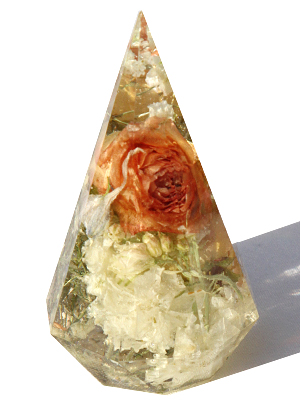 Ring Holder $60
add-on only
4 1/2 in x 2 1/2 in
small flowers
(tax included)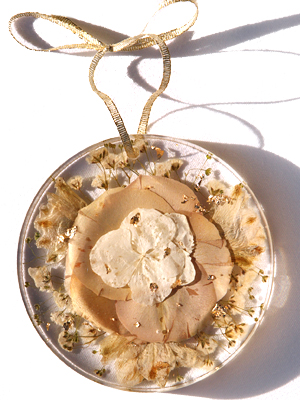 4 in Ornament $35
add-on only
pressed flowers, gold flakes/ribbon
(tax included)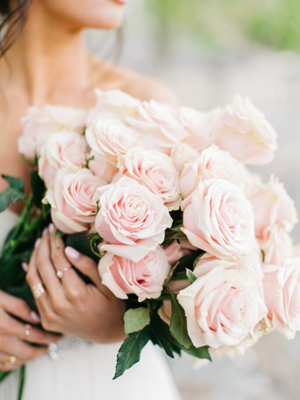 Preservation for US Brides
There are two options for U.S. bouquet preservation
1. Ship your original bouquet that has been air/silica dried.
2. Order the same flowers that were in your bouquet from a florist near us, we will dry them and then preserve them in resin.
Newest Posts