Our Frequently Asked Questions
How long is the turnaround time?
Approximately 8 – 14 weeks. The time depends on how many other orders I am working on, how many items are in your order and the time of year. Peak wedding months, May to October, can take longer. I give my utmost attention and care to every art piece that I create and therefore I am not able to give any firm dates for completion. Your patience is very much appreciated!
Which botanicals are best for preservation?
Most botanicals preserve very well. A few exceptions are lilies and orchids. They dry paper thin and sometimes will show transparent spots. Very fleshy botanicals such as succulents cannot be preserved. The white Hypericum Berry will turn black once it is dried. Most Proteas are too large for the molds. Sunflowers, Daisies, Chrysanthemums and Dahlias can be tricky as the petals tend to fall off in the drying process unless the flowers are very fresh.
Do you preserve bouquets from the United States?
Yes, absolutely! I am happy to preserve your bouquet that has first been dried in silica or air-dried. Complete drying information is available once your date and deposit has been confirmed.
Will the colors of my flowers look exactly the same in the preservation?
Your colors will be fairly similar to your fresh bouquet. Some color and texture changes are normal and expected. Blue and lilac keep their color very well. White tends to turn cream or buff. Red, orange and purple will darken. Pink can loose vibrancy. Calla lilies will turn a bright yellow. However, It is important to keep in mind that pressed flowers do not retain their colors like flowers dried in silica. For the coasters and ornament the botanicals are pressed and white and pink tends to turn a muted, vintage color.
Why are there transparent spots on my flowers?
Transparent or translucent spots are most evident on orchids, lilies, and roses. These botanicals in particular can dry very thin and the spots are caused by wedding day wear, handling, bruising or damage to the delicate petals before the bouquet arrives to be preserved. This damage is not evident until the resin is poured and then the spots become visible. The spots in no way detract from the overall beauty of your preserved floral keepsake!
Can you preserve my air-dried bouquet?
Yes, I have preserved many previously dried bouquets. Some as old as 10 years! Air-dried flowers have a lovely vintage appearance and pleasing, soft muted colors.
I would have loved to preserve my wedding flowers. Can you preserve a re-creation of my bouquet?
Yes, you can order a few of the same botanicals that were in your bouquet from your florist and I will dry and preserve them in resin. Complete information is available once your deposit is confirmed.
Do you accept orders from all parts of Canada?
Yes, I preserve bouquets Canada-wide. Complete packing and shipping instructions are available once your deposit and date are confirmed.
Why is it important that I bring my bouquet as soon after the wedding as possible?
In order for me to create the most beautiful keepsake for you, it is important that I preserve the freshest flowers possible. Flowers that are wilting, rotting or discoloring are very difficult to dry and preserve. They tend to fall apart in the drying process, leaving me with very few choices for the design. If there is a lot of trimming to remove the discolored parts, the flower can start to look misshapen. When roses are spent they start to rot and discolor in their inner core, resulting in dark, brown/black centers inside the rose once it is in the resin. This is unnoticeable to me, as I can't look inside the rose.
Will resin amber over time?
Yes, all resin will amber or yellow over time. This is because UV light and heat is resin's enemy. It breaks down the chemical molecules in cured resin and causes the resin to yellow. Always keep your resin art out of direct sunlight and away from heat. Even fluorescent lights can have an effect on resin's ability to resist yellowing. Please treat your Resin Bouquet as you would any original art, oil painting or watercolor. Ambering in no way hurts the botanicals or detracts from the overall beauty of your preserved floral keepsake!
Why are there little bubbles in my resin?
Botanicals will give off air bubbles when they are in the resin, especially any flowers with deep petals such as roses (red roses in particular), dahlias and statice. I take the utmost care in creating your beautiful preservation, however, Resin Bouquet is original, handmade art combining resin and very fragile and delicate botanical ingredients and some small bubbles, flaws and imperfections are unavoidable. Bubbles in no way detract from the overall beauty of your preserved floral keepsake!
Will my Resin Bouquet look exactly the same as the design?
The design is approximate only. I do try and stay as close to the original design as much as I possibly can, however, once your botanicals are in the resin, I may need to make adjustments, move, add or delete in order to make everything fit in as beautifully as possible.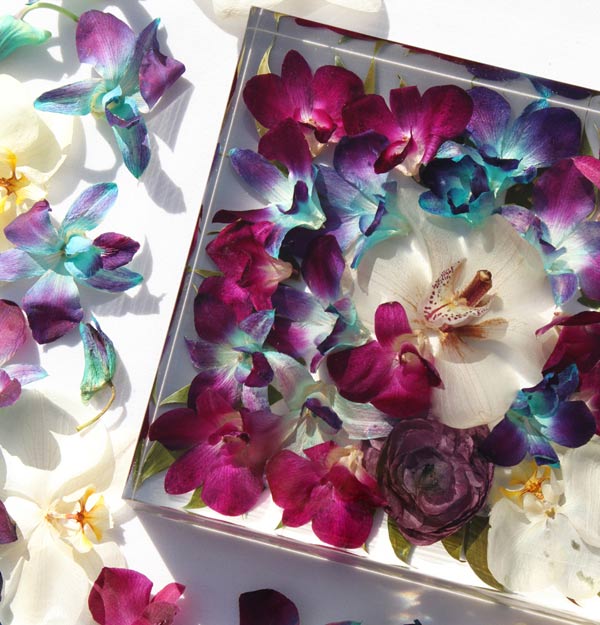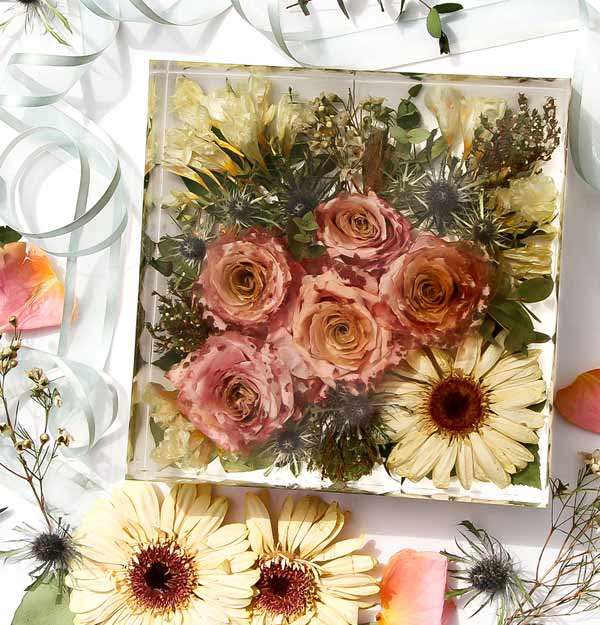 Our Products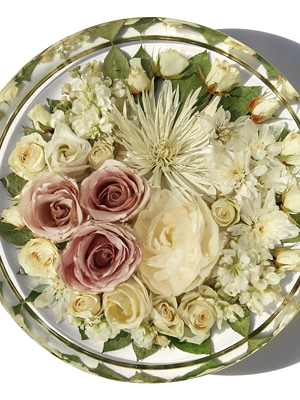 9 in Round $375
(tax included)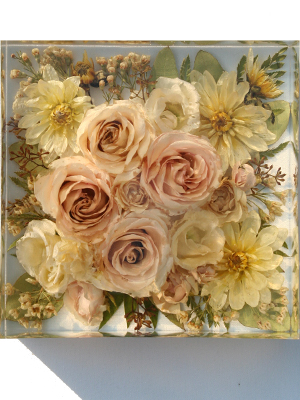 8 in Square $375
(tax included)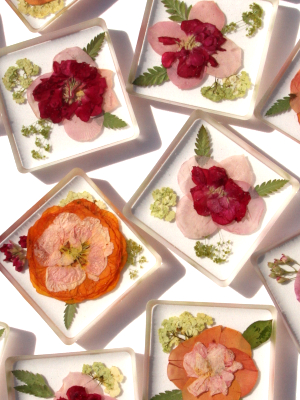 6 Coasters $170
pressed petals and leaves
(tax included)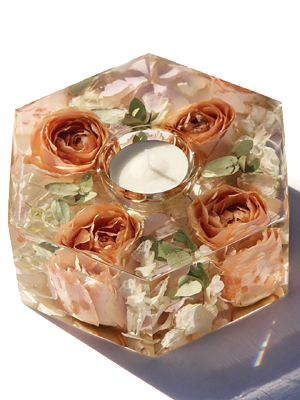 5 in Tealight $170
small flowers and leaves
(tax included)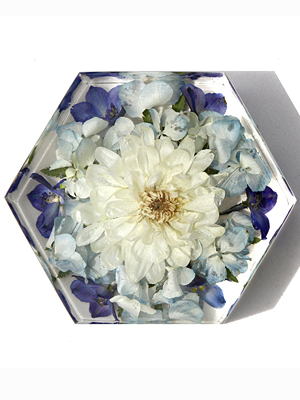 5 in Keepsake $170
small flowers and leaves
(tax included)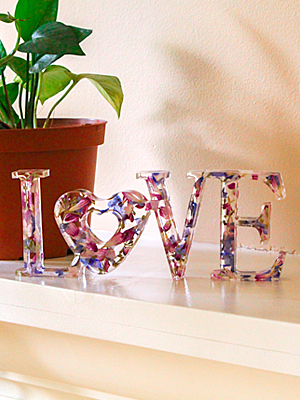 LOVE Sign $45
add-on only
(tax included)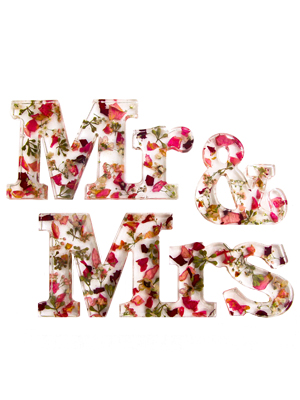 Mr & Mrs $60
add-on only
(tax included)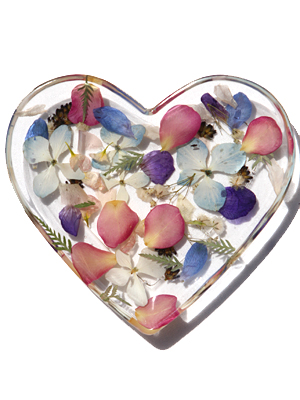 Heart Jewellery Dish $45
add-on only
4 3/4 in x 4 1/2 in
(tax included)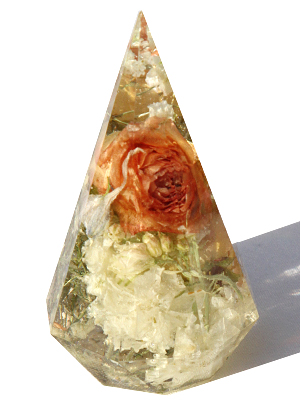 Ring Holder $60
add-on only
4 1/2 in x 2 1/2 in
small flowers
(tax included)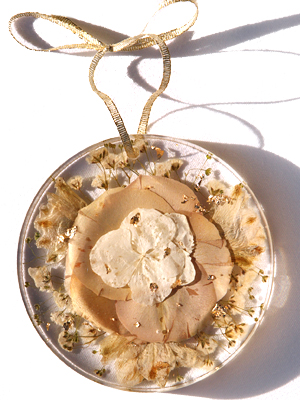 4 in Ornament $35
add-on only
pressed flowers, gold flakes/ribbon
(tax included)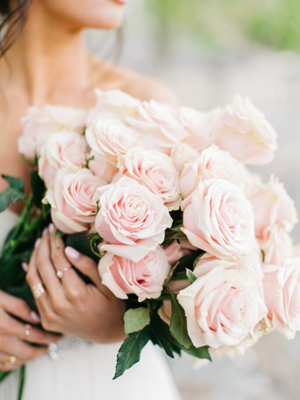 Preservation for US Brides
There are two options for U.S. bouquet preservation
1. Ship your original bouquet that has been air/silica dried.
2. Order the same flowers that were in your bouquet from a florist near us, we will dry them and then preserve them in resin.
Newest Posts